Schemes/Projects
RAJEEV GHANDHI GRAMEEN VIDYUTIKARAN YOJNA
Rajiv Gandhi Grameen Vidyutiakaran Yojna an ambitious project by Govt of India under which all un- electrified Villages are to be electrified by 2009 and all households are to be electrified by 2012. 90% of project cost will be funded by central Govt. rest 10% will be funded as soft loan by REC. The detailed project reports of all 22 districts under RGGVY have been submitted to REC out of which 13 projects have been sanctioned in 10th plan and remaining 9 projects sanctioned under 11th plan. Total sanctioned project cost is Rs. 2858.9 Crore. It has become possible only due to the fact that Jharkhand State Electricity Board has gone madly for system improvement and capacity addition by commissioning new Power substations, Grid stations and commissioning of transmission line and distribution network. So far improvement in generation is concerned, the Jharkhand State Electricity Board has not compromised with destiny as it would be evident from the fact that against too many odds and two major accident of fire in power plant at Patratu, it has not seized to attempt for revival of old power station. As on today it has been made capable to generate 200 MW. The state Government has executed agreements with the CPSU?s namely NTPC?s subsidiary NESCL & DVC for under taking the implementation of the schemes in eight districts for each. JSEB the state power utility has been entrusted for implementation in 6 district.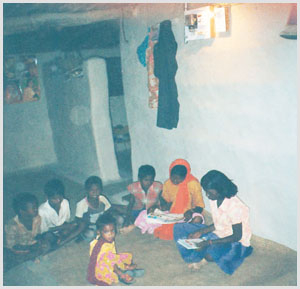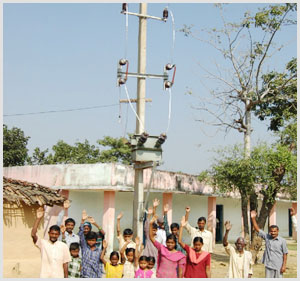 RAJIV GANDHI GRAMEEN VIDYUTIKARAN YOJANA AT A GLANCE
Rajiv Gandhi Grameen Vidyutikaran Yojana (RGGVY) was launched in April-05 by merging all ongoing schemes.
Under the programme 90% grant is provided by Govt. of India and 10% as loan by REC to the State Governments.
REC is the nodal agency for the programme.
The RGGVY aims at
Electrifying all villages and habitations as per new definition
Providing access to electricity to all rural households
Providing electricity Connection to Below Poverty Line (BPL) families free of charge
Infrastructure under RGGVY
Rural Electricity Distribution Backbone (REDB) with 33/11 KV (or 66/11 KV) sub-station of adequate capacity in blocks where these do not exist.
Village Electrification Infrastructure (VEI) with provision of distribution transformer of appropriate capacity in villages/habitations.
Decentralized Distributed Generation (DDG) Systems based on conventional & non conventional energy sources where grid supply is not feasible or cost-effective.
Implementation Methodology and conditions under RGGVY
Preparation of District based detailed project reports for execution on turnkey basis.
Involvement of central public sector undertakings of power ministry in implementation of some projects.
Certification of electrified village by the concerned Gram Panchayat.
Deployment of franchisee for the management of rural distribution for better consumer service and reduction in losses.
Undertaking by States for supply of electricity with minimum daily supply of 6- 8 hours of electricity in the RGGVY network.
Making provision of requisite revenue subsidy by the state.
Determination of Bulk Supply Tariff (BST) for franchisee in a manner that ensures commercial viability.
Three tier quality monitoring Mechanism for XI Plan Schemes made mandatory.
Web based monitoring of progress.
Release of funds linked to achievement of pre-determined milestones.
Electronic transfer of funds right up to the contractor level.
Notification of Rural Electrification Plans by the state governments.